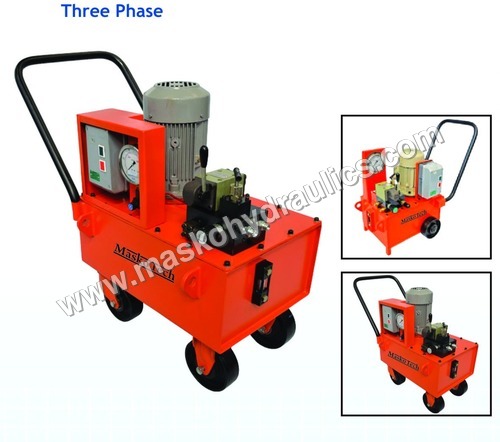 3 Phase Hydraulic Power Pack
Product Description
In order to attain clients' utmost satisfaction, we are engaged in offering a wide gamut of 3 Phase Hydraulic Power Pack. This is precisely manufactured as per the set industry norms by utilizing high quality materials. It is known for their large flow rates, they can operate with zero differential pressure and with high process media temperatures. Moreover, this 3 Phase Hydraulic Power Pack is available in plethora of specifications provided by our customers.

3 Phase Hydraulic Power Pack is used to provide hydraulic power using pressure and oil flow. This is available with powerful voltage motors up to the ranges of 660V to provide t he best performance. It comes with heavy-duty materials to ensure maximum sturdiness and durability. This is designed with high-end motor housing compensated from the hydraulic pump for reducing the possibility of water contamination. This three phase powered unit is available with oil filter fitted to avoid any kind of adulteration from being circulated in the hydraulic system.

Features of 3 Phase Hydraulic Power Pack:

Compact design with sturdy structure
Widely used in elevating tables, ramps, lifting platforms, etc.
Low noise level with vibration-free performance
Available with highly powerful electric motor, a manifold, etc.

Technical Details:

THREE PHASE HYDRAULIC POWER PACK
2M - 2HP Single Phase, H - Hand Lever Operated, S - Single Pump, P - Push Button Operated, D - Double Pump












Motor HP Single Phase
Oil Tank Capacity (Liters)
Model
Flow Up to 150 bar (L/Min.)
Flow above 150 bar (L/Min.)
Usable Oil Capacity (Liters)
2
20
MTPPU - 2 - 20 - HS
NA
1
12
3
40
MTPPU - 3 - 40 - HS
NA
1.5
25
5
50
MTPPU - 5 - 50 - HS
NA
2.5
35
7.5
80
MTPPU - 7.5 - 80 - HS
NA
3.7
55
2
40
MTPPU - 2 - 40 - HD
4.8
1
25
3
40
MTPPU - 3 - 40 - HD
7.3
1.5
25
5
50
MTPPU - 5 - 50 - HD
12.3
2.5
35
7.5
80
MTPPU - 7.5 - 80 - HD
17.3
3.7
55
2
40
MTPPU - 2 - 40 - PD
4.8
1
25
3
40
MTPPU - 3 - 40 - PD
7.3
1.5
25
5
50
MTPPU - 5 - 50 - PD
12.3
2.5
35
7.5
80
MTPPU - 7.5 - 80 - PD
17.3
3.7
55