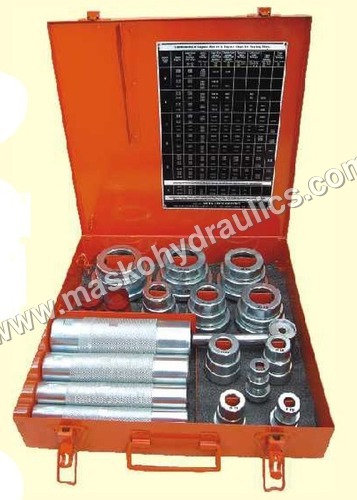 Bearing Fitting Tool Kit
Product Description
We have established ourselves as the leading manufacturer and supplier in this domain, engaged in offering supreme quality Bearing Fitting Tool Kit. As per the set industry standards, this is manufactured using high grade materials. It is versatile tool to mount small and medium sized bearing without damaging them, and the kit comprises of hardened, ground, individually numbered impact rings and sleeves. Our provided kit is used in the refinery, marine, petrochemical, polymer, mineral processing and power industries. This Bearing Fitting Tool Kit is available with us at economical prices.

Use of correct impact ring and sleeve combination ensures that mounting forces are evenly distributed to both bearing rings, thus avoiding damage and extending operating life of bearings.

The entire kit is in a portable steel box and is designed to last for several years. the cost of the is recovered in a few months due to increased life of bearings.

PRESENTLY WE OFFER TWO STANDARD MODELS:

1) ECONOMY MODEL : Comprising of 14 impact rings, 03 impact sleeves, 01 nylon hammer. this kit covers popularly used bearings in industry from 20 mm ID to 50 mm ID. This model does not cover any bearing lesser than 20 mm ID. Approximate weight is 11 kg

2) FULL KIT : Comprising of 33 impact rings, 05 Impact sleeves, 01 nylon hammer. This kit Covers bearings from 10 mm ID to 50 MM ID approximate weight is 16 kg.

In case you not require Our standard Model, we can offer tailor made kits for your individual Department. in this case, Specify bearing used in your plant.

Overall bearing fitting kit is worth wile Investment Offering Considerable Savings and Value for Money. since it substantially increases life of bearings, reduces downtime, eliminates damage to shaft/ housing and dispenses with the need to use specialized skills to mount bearings. The same kit can also be used to mount gears, sleeves, couplings, Pulleys, etc.