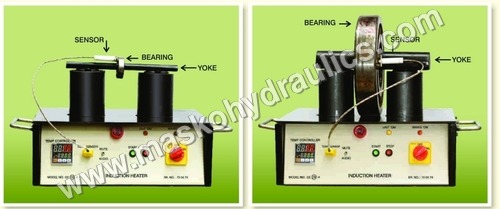 Bearing Induction Heater
Product Description
With the help of our team of technical professionals, we are involved in offering optimum quality Bearing Induction Heater. This is manufactured with the utilization of fine quality materials in accordance with set industry norms. It is best for liquids, gases, steam and some aggressive fluids (vacuum services also.). In addition, this Bearing Induction Heater is widely demanded for its strong structure and long service life.
Any Bearing Can be Conveniently Heated And Mounted. Small and Medium Sized Bearing Up to 20-25 mm ID can be cold mounted using a bearing fitting kit but any bearing having ID of 40 MM or more must never be cold mounted.
Ref Fig 1 : Please Understand Bearing Can cause Scoring on shafts
Ref Fig 2 : Thus Damaging the shaft this happens because bearing Hard (60 - 62 Rc) whereas shafts are generally soft. moreover forcing bearing on shaft manually or hydraulically can cause Internal Damage to bearing
Ref Fig 3 : As the bearing ID increase beyond 40 MM the interference between bearing/shaft is high and hence it is mandatory to do Hot mounting.
Ref Fig 4 : Heating Causes the necessary expansion of bearing/ Coupling damage to both shaft and bearing