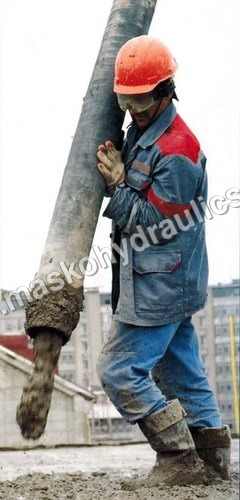 Concrete Hose Pumping
Product Description
Concrete Hose Pumping is designed to deliver water continuously at all outlets in all floors of high rise apartments and commercial buildings with uniform pressure. This system is most ideal for high rise apartments and buildings where the demand of water is variable and fitted without modern bathroom fittings like Jacuzzis, shower etc which require pressurized water for better functioning of the fittings. Furthermore, our esteemed clients can avail this Concrete Hose Pump from us at marginal prices in diverse technical specifications.

Functional capacities

Offered Concrete Hose Pumps are capable to face the challenges grounded by viscous, abrasive and heavy concrete, which incorporates pieces of hard rock, and is solidified if not kept tossing. Capable to work in hundreds of atmospheric pressures, these make the use of transfer tube valves, and the one placed on the right employ the seat valves. The pumps are operated with proven "S" Valve technology that is capable of managing tough concrete as these are accessible with the bigger diameter. The hydraulic system of these Concrete Hose Pumps enable an uninterrupted, smooth concrete pumping, decreasing boom bounce, consequent in simple handling at the hose-ends.

Technical Specifications:
CEMENT CONCRETE HOSE
















Serial No.
Hose ID
Hose OD
Hose Length
Fitting OD
WP Bar


















Inches
Mm
Inches
Mm
mm
mm


















1
5
127
6.1
155
3000
167
85
2
5
127
6.1
155
4000
167
85
3
5
127
6.1
155
5000
167
85
4
5
127
6.1
155
6000
167
85
1
5
127
6.1
155
3000
148
85
2
5
127
6.1
155
4000
148
85
3
5
127
6.1
155
5000
148
85
4
5
127
6.1
155
6000
148
85
















FLY ASH HOSES (Cement Suction And Discharge Hose)
















Serial No.
Hose ID
Hose OD
Hose Length
Fitting OD
WP Bar


















Inches
Mm
Inches
Mm
mm
mm


















1
2
51
2.55
65
As Require
As Per Application
10
2
2½
64
3.11
79
As Require
As Per Application
10
3
3
76
3.62
92
As Require
As Per Application
10
4
4
102
4.72
120
As Require
As Per Application
10
5
5
127
5.78
147
As Require
As Per Application
10
6
6
152
6.85
174
As Require
As Per Application
10
















CEMENT BULKER TRUCK HOT AIR BLOWER HOSE
















Serial No.
Hose ID
Hose OD
Hose Length
Fitting OD
WP Bar


















Inches
Mm
Inches
Mm
mm
mm


















1
2
51
2.55
65
As Require
As Per Application
10
2
3½
89
4.29
109
As Require
As Per Application
10
3
4
102
4.72
120
As Require
As Per Application
10
4
5
127
5.78
147
As Require
As Per Application
10
5
6
152
6.85
174
As Require
As Per Application
10