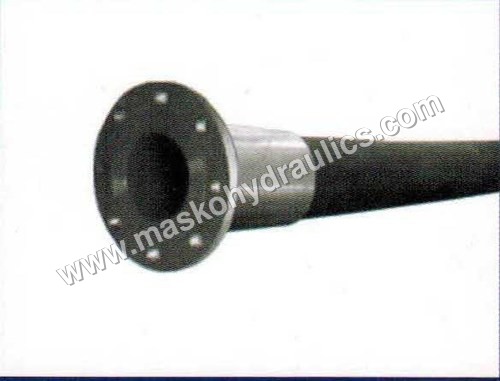 Fly Ash Rubber Hose
Product Description
With our rich industry experience and knowledge, we are engaged in offering high quality
Fly Ash Rubber Hose
. This is recommend for upper, lower, by-pass, heater and other applications. They are designed to perform as good as they look using the highest quality materials and engineered for optimum fit and function. Our provided Fly Ash Rubber Hose is widely used in the various industries such as agriculture, construction, mining and many other engineering industries. Clients can avail these hoses in various sizes as per their requirement.
Provided Fly Ash Rubber Hoses are the heavy duty yet flexible hoses, applicable for material handling purpose. These are found suitable for discharge of dry cement, sand, lime, mud particles, ash & cement plants for suction. These can capably replace the iron pipes which were the earlier utilization for transferring of abrasive materials, where there is a requirement of inherit flexible hoses. The tubes of these are made with black synthetic EPDM rubber, which are resistant to abrasion & heat. The lining of these Fly Ash Rubber Hoses are assembled with unvarying seamless tube of natural as well as synthetic blend rubber compounds, provided with optimal resistance to abrasion.
Applications:
Truck, tank, Bulker loading/unloading
In-plant transfer of sand, lime, dry bulk cement, slurry etc.
Suction or emission of abrasive materials.
Technical Specifications:
CEMENT CONCRETE HOSE
















Serial No.
Hose ID
Hose OD
Hose Length
Fitting OD
WP Bar


















Inches
Mm
Inches
Mm
mm
mm


















1
5
127
6.1
155
3000
167
85
2
5
127
6.1
155
4000
167
85
3
5
127
6.1
155
5000
167
85
4
5
127
6.1
155
6000
167
85
1
5
127
6.1
155
3000
148
85
2
5
127
6.1
155
4000
148
85
3
5
127
6.1
155
5000
148
85
4
5
127
6.1
155
6000
148
85
















FLY ASH HOSES (Cement Suction And Discharge Hose)
















Serial No.
Hose ID
Hose OD
Hose Length
Fitting OD
WP Bar


















Inches
Mm
Inches
Mm
mm
mm


















1
2
51
2.55
65
As Require
As Per Application
10
2
2 ½
64
3.11
79
As Require
As Per Application
10
3
3
76
3.62
92
As Require
As Per Application
10
4
4
102
4.72
120
As Require
As Per Application
10
5
5
127
5.78
147
As Require
As Per Application
10
6
6
152
6.85
174
As Require
As Per Application
10
















CEMENT BULKER TRUCK HOT AIR BLOWER HOSE
















Serial No.
Hose ID
Hose OD
Hose Length
Fitting OD
WP Bar


















Inches
Mm
Inches
Mm
mm
mm


















1
2
51
2.55
65
As Require
As Per Application
10
2
3 ½
89
4.29
109
As Require
As Per Application
10
3
4
102
4.72
120
As Require
As Per Application
10
4
5
127
5.78
147
As Require
As Per Application
10
5
6
152
6.85
174
As Require
As Per Application
10