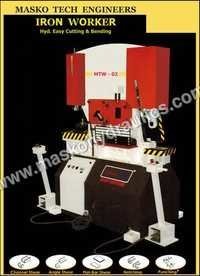 Hydraulic Iron Worker
Product Description
OUR BUSINESS turned into the market pioneer to introduce a laser at the punching station of Hydraulic Iron Worker. Presently we have altered the laser so standard tooling can be utilized. It can be effectively retrofitted on existing models sans change the stripper nor penetrating additional gaps. Our Hydraulic Iron Worker now accompany a low weight apparatus arrangement mode. The administrator can utilize the Run mode to run the machine in low weight and low speed for device arrangement, cutting edge changes and upkeep tasks. This will extraordinarily enhance administrator wellbeing and avoid device harm if there should arise an occurrence of mis-arrangement. The Hydraulic Iron Worker is a minimal ironworker that comes finish with a notcher. The outline break underneath the punching station permits punching on the spine of extensive size channel or shaft profiles. Miter shear of edges can be completed at the level bar shear station.

Key Features:
Fuses adaptability, productivity, precision
Deliver usability at a magnificent cost
Effective highlights like back gauges and item manages
Stations for punching, indenting, level bar shearing, and so on.