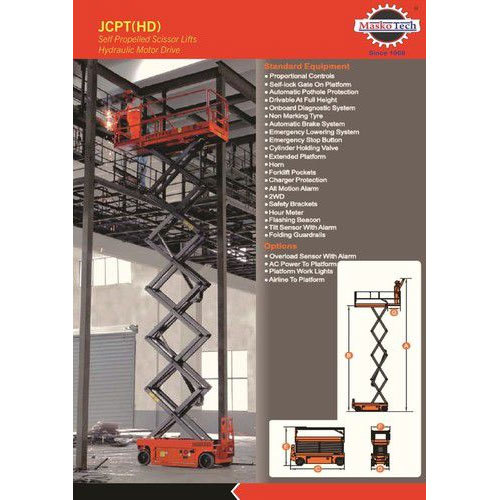 Hydraulic Scissor Lift
Product Description
Backed by rich industry experience and knowledge, we have been able to manufacture and supply a broad range of Hydraulic Scissor Lift that is best suited for handling bulk material with no hassle. This is efficiently manufactured under the stern guidance of our technical team of professionals with the help of latest techniques at our sound production unit. Our provided lift is majorly used in logistic industry, railway station, airport and many more. We provide this Hydraulic Scissor Lift in various models and other specifications defined by our clients.
Structural and functional info
Provided Hydraulic Scissor Lifts are the mechanical devices employed for several applications so as to lift the loads to a particular height or level. Used to raise or lower, stack, convey or transfer physicals between two or more ascents, these are offered with compact designs and constructions. Capable to be used for handling of heavy materials onto different floors, multi-story parking etc, these are really safe to use. These are the common staples employed in plants and warehouses, the simple designs of which enable them to effortlessly lift the materials of all varieties. The Hydraulic Scissor Lifts are actuated via one, two, or three single-acting hydraulic containers.
Key Points :
Stand as the optimal types of hydraulic machinery as well as forms of hydraulic redistribution.
Functional as the industrial lifts, employed to raise as well as lower things in wholesale & retail settings.
Offered with motors as their power source, powered via either an air motor or the electric one.
Require linear movement for supplying the elevation.
Technical Specifications:
| | | | | | | |
| --- | --- | --- | --- | --- | --- | --- |
| | JCPT0808HD | JCPT1008HD | JCPT1012HD | JCPT1212HD | JCPT1412HD | JCPT1612HD |
| | | | | | | |
| S.W.L | 380kg | 230kg | 450kg | 320kg | 320kg | 200kg |
| S.W.L On Extension | 113kg | 113kg | 113kg | 113kg | 113kg | 113kg |
| Max. Occupants | 2 | 2 | 2 | 2 | 2 | 2 |
| | | | | | | |
| Working Height | 8.0mm | 10.00m | 10.00m | 12.00m | 13.80m | 15.70m |
| Platform Floor Height | 6.00m | 9.00m | 8.00m | 10.00m | 11.80m | 13.70m |
| | | | | | | |
| Overall Length | 2.48m | 2.48m | 2.48m | 2.48m | 2.48m | 2.84m |
| Overall Width | 0.81m | 0.81m | 1.15m | 1.15m | 1.15m | 1.25m |
| Overall Height (UP) | 2.20m | 2.32m | 2.32m | 2.44m | 2.58m | 2.59m |
| Overall Height (Down) | 1.87m | 1.89m | 1.78m | 1.92m | 2.04m | 2.28m |
| Platform Size | 2.27m x 0.81m | 2.27m x 0.81m | 2.27m x 1.12m | 2.27m x 1.12m | 2.27m x 1.12m | 2.27m x 0.81m |
| Platform Extension Size | 0.90m | 0.90m | 0.90m | 0.90m | 0.90m | 0.90m |
| Ground Clearance (A) | 0.10m | 0.10m | 0.10m | 0.10m | 0.10m | 0.10m |
| Ground Clearance (B) | 0.019m | 0.019m | 0.019m | 0.019m | 0.019m | 0.019m |
| Wheel Base | 1.87m | 1.87m | 1.87m | 1.87m | 1.87m | 2.22m |
| Turning Radius (Inside) | 0m | 0m | 0m | 0m | 0m | 0m |
| Turning Radius (Outside) | 2.10m | 2.10m | 2.20m | 2.20m | 2.20m | 2.65m |
| | | | | | | |
| Drive Lifting Motor | 24v/3.3kv | 24v/3.3kv | 24v/3.3kv | 24v/4.5kv | 24v/4.5kv | 24v/4.5kv |
| | | | | | | |
| Travel Speed (A) | 3.5km/h | 3.5km/h | 3.5km/h | 3.5km/h | 3.5km/h | 3.5km/h |
| Travel Speed (B) | 0.8km/h | 0.8km/h | 0.8km/h | 0.8km/h | 0.8km/h | 0.8km/h |
| Up/Down Speed | 24/54 Sec | 28/40 Sec | 28/38 Sec | 45/36 Sec | 84/38 Sec | 88/60 Sec |
| | | | | | | |
| Batteries | 4x6kv/225Ah | 4x6kv/225Ah | 4x6kv/225Ah | 4x6kv/240Ah | 4x6kv/300Ah | 4x6kv/300Ah |
| Integrated Charger | 24V/25A | 24V/25A | 24V/25A | 24V/25A | 24V/25A | 24V/25A |
| | | | | | | |
| Gradeability | 25.00% | 25.00% | 25.00% | 25.00% | 25.00% | 25.00% |
| Maximun Working Slope | 2°/3° | 1.5°X3° | 2°/3° | 2°/3° | 1.5°/3° | 1.5°/3° |
| | | | | | | |
| Tyres | 381X127mm | 381X127mm | 381X127mm | 381X127mm | 381X127mm | 381X127mm |
| | | | | | | |
| Weight (A) | 2085kg | 2140kg | 2615kg | 2945kg | 2870kg | 3100kg |
| Weight (B) | 1985kg | 2140kg | 2215kg | 2510kg | / | / |