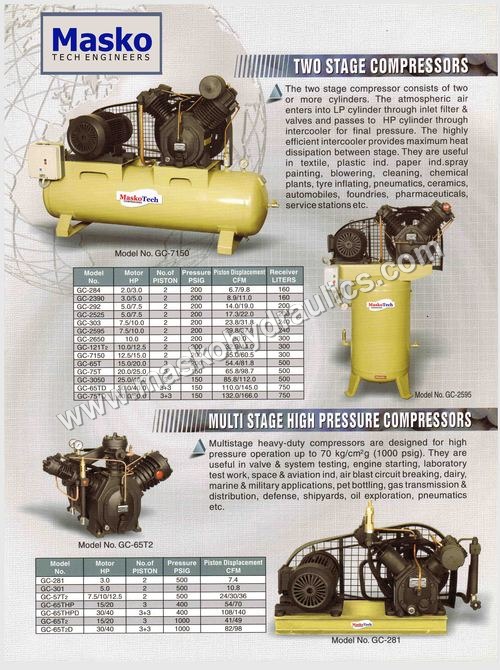 Two Stage Air Compressor
Product Description
Being one of the principal companies, we are engaged in offering a comprehensive assortment of Two Stage Air Compressors. This is manufactured using optimum grade materials in accordance with set industry norms. It produces higher air power that makes them the better option for large–scale operations and continuous applications. Further, this Two Stage Air Compressors is checked on diverse parameters before dispatching from our end.

In two stage air compressor also called dual stage air compressor, twice the air is compressed between the inlet valve and the tool nozzle for double the pressure. The compressed air is passed to smaller piston for the second stroke at around 175 psi. The double pressurized air once cooled is delivered to a storage tank. From there, the cooled double pressurized air serves as energy for arsenals of high–powered equipment. This equipment has two cylinders, the second piston is shorter than the first. Both are linked by a cooling tube to lower down the temperature of the air before the second round of compression. We provide two stage compressors and multi stage high pressure compressors for use in industries, like plastic, paper, textile, automobile, chemical, ceramics, pharmaceutical, marine, etc.

Key Points :

This kind of air compressor produces higher air power, which makes it apt for large–scale operations and continuous applications in workshops, labs, plant and factories.
It is suitable for settings where air-powered machinery are used.
GC 7150 two stage air compressor has LP cylinder and HP cylinder.
High pressure operations can be performed using multi stage high pressure compressor.
Technical Specification
| | | | | | |
| --- | --- | --- | --- | --- | --- |
| Model No. | Motor HP | No. of Piston | Pressure PSIG | Piston Displacement CFM | Receiver Liters |
| GC-284 | 2.0/3.0 | 2 | 200 | 6.7/9.8 | 160 |
| GC-2390 | 3.0/5.0 | 2 | 200 | 8.9/11.0 | 160 |
| GC-292 | 5.0/7.5 | 2 | 200 | 14.0/19.0 | 200 |
| GC-2525 | 5.0/7.5 | 2 | 200 | 17.3/22.0 | 200 |
| GC-303 | 7.5/10.0 | 2 | 200 | 23.8/31.8 | 240 |
| GC-2595 | 7.5/10.0 | 2 | 200 | 29.8/37.8 | 240 |
| GC-2650 | 10 | 2 | 200 | 30 | 300 |
| GC-2650 | 10 | 2 | 200 | 30 | 300 |
| GC-121T2 | 10.0/12.5 | 2 | 200 | 32.9/44.0 | 300 |
| GC-7150 | 12.5/15.0 | 2 | 200 | 55.0/60.5 | 300 |
| GC-65T | 15.0/20.0 | 3 | 200 | 54.4/81.8 | 500 |
| GC-75T | 20.0/25.0 | 3 | 150 | 65.8/98.7 | 500 |
| GC-3050 | 25.0/40.0 | 3 | 150 | 85.8/112.0 | 500 |
| GC-65TD | 30.0/40.0 | 3+3 | 150 | 110.0/145.0 | 750 |
| GC-75TD | 40.0/50.0 | 3+3 | 150 | 132.0/166.0 | 750 |

Model No. GC-65T2
| | | | | |
| --- | --- | --- | --- | --- |
| Model No. | Motor Hp | No. of piston | Pressure PSIG | Piston Displacement CFM |
| GC-281 | 3 | 2 | 500 | 7.4 |
| GC-301 | 5 | 2 | 500 | 10.8 |
| GC-57T2 | 7.5/10/12.5 | 2 | 500 | 24/30/36 |
| GC-65THP | 15/20 | 3 | 400 | 54/70 |
| GC-65THPD | 30/40 | 3+3 | 400 | 108/140 |
| GC-65T2 | 15/20 | 3 | 1000 | 41/49 |
| GC-65T2D | 30/40 | 3+3 | 1000 | 82/98 |